Grace Elders
Tom Ascol - Senior Pastor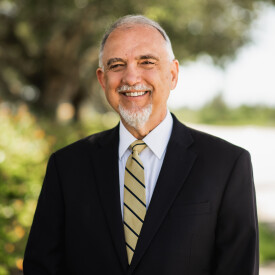 Tom has served as a Pastor of Grace Baptist Church since 1986. Prior to moving to Florida he served as pastor and associate pastor of churches in Texas. He has a BS degree in sociology from Texas A&M University (1979) and has also earned the MDiv and PhD degrees from Southwestern Baptist Theological Seminary in Ft. Worth, Texas. His major field of study was Baptist Theology. He has served as an adjunct professor for New Orleans Baptist Theological Seminary in their SW Florida extension and has also taught systematic theology and pastoral theology at Reformed Theological Seminary and the Midwest Center for Theological Studies (now Covenant Baptist Seminary), respectively. He was also a Teaching Fellow at the Nicole Institute for Baptist Studies at Reformed Theological Seminary in Orlando, Florida.
Tom serves as the President of Founders Ministries, an organization committed to reformation and revival in local churches. He has written numerous articles for journals and magazines and is a regular contributor to TableTalk. He has also edited and contributed to several books. Tom regularly preaches and lectures at various conferences throughout the United States and other countries in addition to writing for Founders Ministries. Tom also serves as the President of The Institute of Public Theology, which aims to train a coming generation of pastors and Christians to know the times, preach the Word, believe the Word, and do the Word.
Tom enjoys riding motorcycles and, though he currently is "in between bikes," lives with the hope that one day he will have his own Harley. He and Donna have ten children, including 3 sons-in-law and one daughter-in-law. They also have fifteen grandchildren.
Graham Gunden - Assistant Pastor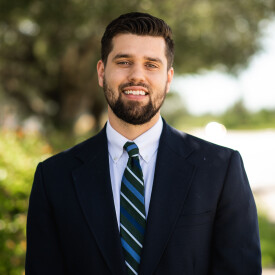 Graham came to Grace Baptist Church as a pastoral intern in August, 2017 and has since transitioned into the role of Assistant Pastor. Prior to that he lived in Orlando where he worked for Ligonier Ministries and Reformation Bible College. He has a BA in biblical studies from Reformation Bible College and is working toward completing his Mdiv from the Southern Baptist Theological Seminary. Graham serves as headmaster at The Fletcher School, an organization providing Christian parents in Southwest Florida a distinctly classical and Christian education for their children. Graham and his wife Sarah have been married since 2016 and have two boys, Bennett and Woodrow.
Raised on the North coast (Michigan), Graham and Sarah and their boys enjoy spending time outdoors and on the water. Southwest Florida has provided them many opportunities to adventure and explore God's sub-tropical handiwork. Graham also enjoys reading good literature and theological works, as well as making slow smoked BBQ for his friends to enjoy.
Don Kiah - Lay Elder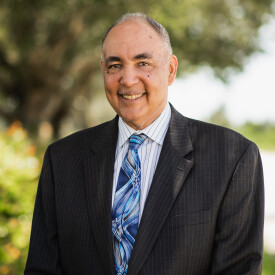 Don Kiah and his wife Rita retired to Florida from Maryland in 2012. They have been married for 33 years, have two children and three grandchildren. Their primary desire after arriving in Florida was to find a home church. After praying that God would direct them to their new church where they could continue to grow through the preaching and teaching of sound doctrine and discipleship and fellowship with a body of believers, they were amazed at the quick confirmation that Grace Baptist was where they needed to be. Don and Rita joined Grace Baptist in April of 2013. Since that time, they have been blessed to lead and be a part of many discipleship opportunities at the church.
Don became a lay elder in April 2017. Don and Rita are thankful, since their relocation, to be in a close proximity and enjoy precious family time with their parents and daughter and youngest grandchild. Don enjoys reading and studying the Word, joining together with other church family for fellowship, and brisk morning walks. He and his wife enjoy their time together and seek to appreciate daily all that God has granted them to be at this place at this time for His glory.
Chris Faro - Lay Elder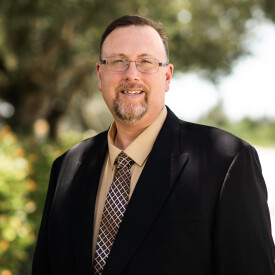 Chris Faro and his wife Becky have been members of Grace Baptist Church for 10 years. They have two children and have lived in Southwest Florida since 2000. God led them to Grace Baptist through a hunger to be part of a church where the Word of God was central in everything and where the preaching and teaching was driven by the Word rather than the ideas of men. Since coming to Grace, Chris has served as a teacher of various age groups, small group leader and is involved in helping to lead the congregation in singing during our worship services. The Faro family has been blessed by how God has worked in their lives during their time at Grace. Chris is a sales manager at a local remodeling company and Becky has home schooled their children from a young age.
Chris became a lay elder at Grace in April of 2019. He enjoys spending time with his family, learning from God's Word, reading good books, music, sports, and teaching. Their family is also a big fan of the various theme parks that Florida offers. They are grateful for the many blessings that God has showered on them through His Son, Jesus Christ.
Jorge Alvarez - Lay Elder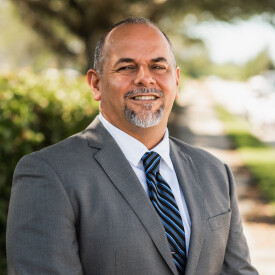 Jorge and Yoandra Alvarez immigrated from Cuba to the US in January 2000 looking for greater freedom and better opportunities. They both grew up in Santeria, which is a mix of Roman Catholicism and African voodoo religion. They moved from the Miami area to Cape Coral in 2004 in search of a better place for raising and educating their two daughters. Shortly after that they started attending Grace and, by the grace of God, were saved in 2006, joined the church and began to grow in their knowledge of the Word of God and their devotion to the Lord Jesus Christ.
Jorge served as a deacon of Grace for 7 years (2012 - 2019) and was then called in 2019 to serve as an elder. He is the founder, owner and operator of a local plumbing company and the Alvarez family enjoys spending time together in any possible way, whether studying the Word of God or hiking in the mountains of North Carolina.
Grace Pastoral Interns
Zachary Heston - Pastoral Intern
Zach began his internship at Grace Baptist Church in August of 2021. He and his wife Jerrianne along with their two sons, Asher and Benjamin, are native to central Florida. Here Zach worked full-time during the day while also a full-time online student at The Baptist College of Florida pursuing his bachelor's degree in ministry.
Zach's desire to learn how to faithfully shepherd God's people in a way that is true to Scripture led him to put his degree work on hold to come sit under the leadership here at Grace and attend the Institute of Public Theology. He truly believes his education here is second to none.
Zach loves to play guitar, sing, and write music. He also enjoys motorcycles, wood-working, and reading. His favorite time, however, is spent adventuring with his wife and his two little boys.
Jon H. Thomason

- Pastoral Intern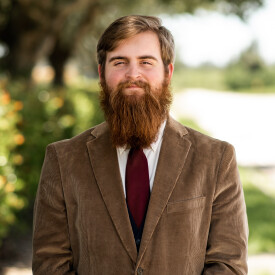 Jon was born in 1999 in LaGrange, GA. He has been married to his wife Caitlyn since June 2020. Jon was baptized upon a profession of faith and has a gripping love for the Baptist church. He is a certified welder with a degree in welding and joining technology from West Georgia Technical College, and has most recently worked building forestry tractors, and as a carpenter's assistant.
Through leading Bible studies and preaching in his local church there was a recognition from the eldership of a call on his life to pastoral ministry. As Jon and the eldership were looking for a place of training and testing, by the providence of God, came upon the Grace Baptist Church internship and is currently a full-time student at The Institute of Public Theology.