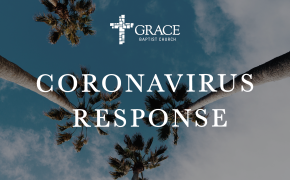 Coronavirus Response - Current Update (9/12/20)
This Sunday, September 13, 2020 we will meet for our morning worship service in the church building at 10:20AM.
Everyone is welcome to join in our time of worship but if you think it best to refrain from joining us be assured of the love and understanding of your elders and fellow church members. The service will be live-streamed.
This Sunday we will not to meet for Sunday School classes, Core Seminars, or offer Nursery.
We will meet Sunday evening at 5:00 PM for an evening service.
If you are planning to gather with us this Sunday, please follow these protocols:
If you or anyone in your family have had any signs of sickness in the previous 24 hours, please stay home and join us via livestream.
If you have been recently exposed to anyone who has flu-like symptoms, please stay home and join us via livestream.
Wash your hands frequently & use the hand-sanitizing stations that are available.
Cover all coughs & sneezes.
Coronavirus Response Update (4/24/20)
This Sunday, April 26, 2020 at 9:00 AM, we again plan to have a worship service on the parking lot of our facilities. We will assemble in our parking lot, remaining in our vehicles. For those of you able to join, please park facing the church building, leaving one parking space between each vehicle. (We will not have any restrooms available so please prepare for that and feel free to simply leave if you must).
This unusual and irregular gathering is being planned because of the unusual days of pandemic that continue on. We encourage anyone who is at risk (underlying medical conditions, sick, exposed to sick people recently, elderly, etc.) to stay home. Anyone who is hesitant to gather in this way should also stay home with no qualms of conscience.
We will be streaming our service on Facebook live from our church Facebook page.
If you have any questions or would like more information, call our church office at 239.772.1400
Coronavirus Response Update (3/19/20)
Dear Brothers and Sisters,
The Covid-19 virus has brought significant challenges to us, our community, and our nation. We have been reminded of human limitations and sinfulness as well as the sovereignty and goodness of God. After much prayer, counsel, and discussion over whether we should assemble this Lord's Day or not, we have concluded that it is best for us not to meet for worship this Sunday, March 22, 2020. While we will certainly miss the joy of gathering for worship, we make this decision in faith trusting it is pleasing to the Lord. We want you to understand how we have come to this decision and the basis on which we will be evaluating what we do going forward.
No federal, state, or local governments have mandated that churches shut down our public gatherings. We have listened carefully to the statements coming from President Trump and Governor DeSantis as they have declared states of emergency in our nation and in Florida. We have also studied the Center for Disease Control guidelines for gathering in groups. As you know, when a church meets for worship it is not merely a social gathering. It is an assembly of people called by God, saved by Jesus, and empowered by His Spirit for the purpose of testifying to the greatness and glory of our Triune God as we hear from His Word. Because of this, your elders have done our best to consider and apply Scriptural principles to our situation.
Here are the main principles that have guided us:
We are the church of Jesus Christ. He is our Lord and Head (Matthew 16:18; Ephesians 1:22-23). Therefore, He is our ultimate authority—our King and our God. His commandments are our clear duty. He has revealed His will to us in His Word. Scripture clearly teaches that gathering for worship is vital for a church (Hebrews 10:25). As you know, many evangelicals in our land minimize this point and treat the gathering of the church as optional. Yet a church's public worship lies at the very heart of its purpose. Our own confession makes this clear when it states, "Those who are called he commands to live together in local societies, or churches, for their mutual edification and the fitting conduct of public worship that he requires of them while they are in the world" (Second London Confession, 26.5).

As elders, we are called to shepherd this flock so as to equip you and see you built up into "the unity of the faith and of the knowledge of the Son of God, to mature manhood" (Ephesians 4:11-16; Acts 20:28; 1 Peter 5:1-4). We are called to discharge our duties knowing that one day we will stand to give an account before God for how we have led this church (2 Timothy 4:1-5; Hebrews 13:17). This means we must not only teach God's Word accurately but we must also make difficult decisions with wisdom and prudence.

All people—especially all Christians—are called to love God supremely and our neighbors sincerely (Matthew 22:37-40). As Jesus teaches us in Matthew 7:12 (the "golden rule"), "So whatever you wish that others would do to you, do also to them, for this is the Law and the Prophets."


Christ tells us to honor civil authorities (Romans 13:1-7; 1 Peter 2:13-17). They are God's servants whom He calls to promote good and punish evil. Their authority is not inherent, but rather is vested in them by God. That is, God has delegated authority to them in civil affairs. If ever civil authorities tried to coerce disobedience to Jesus Christ, then Christians are obligated to disobey (Acts 4:19; 5:29; Daniel 3:8-18; 6:6-13).
Though the civil government has not issued a mandate that churches not meet during this time, both governmental authorities have encouraged limiting group gatherings. We understand them to be exercising their best judgment in offering short-term guidelines for the welfare of everyone in our nation. They have access to medical experts who, though not infallible, have information and understanding that most citizens (including us) do not have. These guidelines have been encouraged as a means of slowing down the spread of the deadly Covid-19 virus. The governmental authorities have not singled out churches in making these recommendations. These guidelines are not sinful. On the contrary, they seem to be prudent.
In light of all of this, it seems prudent to us that we not meet this Sunday, March 22. There have been other, rare occasions when we have not met, namely when hurricanes were bearing down on us or floods made travel treacherous. The decisions not to meet in those situations were far easier to make than this current one, largely because there are so many unknowns about this virus. Even medical experts acknowledge that we are in uncharted territory.
It is a weighty matter to decide not to meet as a church. We have made this decision only after much agonizing and careful consideration of the principles listed above. We also recognize that the guidelines suggested by civil authorities have changed many times in the last week. They may well change again in the next week.
In order to be as careful as we can be, the elders have decided to monitor the situation day-by-day and to wait until next week to decide about what to do on Sunday, March 29.
We realize that we are in an area of prudence and wisdom in making these decisions. Reasonable Christians can and do disagree. We have come to this decision out of ultimate devotion to Jesus Christ, genuine respect for the civil authorities that God has given us, and sincere love for our neighbors.
Our elders and deacons will be reaching out to the membership over the next several days to check on everyone. Please let us know of any needs that you have. We encourage you to take extra precautions during this time out of love and deference for others. If you are uncertain about what to do, consult the Center for Disease Control for guidance.
We will be providing materials to encourage you to worship the Lord in your home on this coming Lord's Day. Remember to pray for one another. Use our online church directory to help you do that. Pray for your elders and deacons. Pray for our civil leaders and those working to combat this virus. Check our church website and social media posts (twitter and Facebook) for updated information.
We love you and thank the Lord for the privilege of serving you in these challenging days.
In behalf of the elders,
Pastor Tom
Video Update from Pastor Tom (3/18/20)