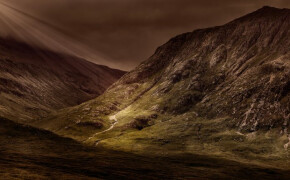 "Then I saw in my dream, that the Interpreter took Christian by the hand, and led him into a place where was a Fire burning against the wall, and one standing by it, always casting much water upon it, to quench it; yet did the Fire burn higher and hotter."
There are times when theology can be very practical, times when what we believe and what we preach to ourselves can have a profound impact on our spiritual wellbeing. Nowhere is this more true than when we face times of darkness—suffering, persecution, trials and temptations—times when we are doubting, distressed and unsure how to press on. John Bunyan offers a vivid illustration of this in his allegory The Pilgrim's Progress.
In Bunyan's story Christian is directed to the House of the Interpreter (the Bible) where he is shown "excellent things" that will help him in his journey. In one of the rooms Christian sees a Fire burning against a wall. He also observes one standing by the fire casting water on it, trying ceaselessly to quench it, yet the fire continues to burn higher and hotter. Christian cannot understand why the fire doesn't go out. From his perspective the fire has no chance against such a diligent effort to douse its flames.
As Christian ponders the scene before him, he asks: "What does this mean?" The Interpreter explains that the Fire is the Work of Grace, accomplished in the heart by the Holy Spirit. The one who casts water on the fire is the Devil, who would like nothing better than to see the heart grow cold and still. Satan is hard at work in his endeavor, constant in his efforts. Scripture speaks of him as walking about as "a roaring lion, seeking whom he may devour" (1 Peter 5:8). Yet, in spite of his attempts to drown the heart with temptation and doubt, God's work of grace burns higher and hotter, that is, it is not diminished in heat or light.
This imagery arises from Bunyan's own experience with temptation as he describes in Grace Abounding:
Then hath the tempter come upon me, also, with such discouragements as these: You are very hot for mercy, but I will cool you; this frame shall not last always; many have been as hot as you for a spirit, but I have quenched their zeal. And with this, such and such who were fallen off would be sent before mine eyes. Then I should be afraid that I should do so too; but, thought I, I am glad this comes into my mind. Well, I will watch, and take what heed I can. Though you do, said Satan, I shall be too hard for you; I will cool you insensibly, by degrees, little by little. What care I, saith he, though I be seven years in chilling your heart if I can do it at last? Continual rocking will lull a crying child asleep. I will ply it close, but will have my end accomplished. Though you be burning hot at present, yet if I can pull you from this fire, I shall have you cold before it be long. [par. 110]
As Christian wonders at the sight of the flames' perseverance in the face of such opposition, the Interpreter has him come around to see the backside of the wall previously hidden from his view. Here Christian sees the means by which the fire perseveres. A Man with a Vessel continually feeds the fire with Oil. Though water may pour endlessly to douse and discourage it, so also the oil continually revives it and sustains it that it may never go out.
The Interpreter continues his explanation: The Man with the Vessel is Christ and the Oil is His Grace that faithfully maintains the work of God in the heart, even through the dark times of suffering, persecution, difficulty and temptation. We see in Scripture that the apostle Paul faced all of these things, yet his faith held true. Paul was given "a messenger of Satan" that he might be humbled and learn to rely only on the grace of God. He testifies:
And lest I should be exalted above measure by the abundance of the revelations, a thorn in the flesh was given to me, a messenger of Satan to buffet me, lest I be exalted above measure. Concerning this thing I pleaded with the Lord three times that it might depart from me. And He said to me, "My grace is sufficient for you, for My strength is made perfect in weakness." Therefore most gladly I will rather boast in my infirmities, that the power of Christ may rest upon me. Therefore I take pleasure in infirmities, in reproaches, in needs, in persecutions, in distresses, for Christ's sake. For when I am weak, then I am strong (2 Corinthians 12:7-10).
The confidence that Paul knew from trusting in the strength and power of Christ, he desired others to know as well. Though himself in chains, he wrote to the church at Philippi of his confidence in the power of the gospel:
being confident of this very thing, that He who has begun a good work in you will complete it until the day of Jesus Christ (Philippians 1:6).
We can glean at least three important truths from this lesson.
First, that Satan is ceaseless in his attack upon the believer. Christian has yet to learn in the Valley of Humiliation how fierce the Devil (Apollyon) can be in his hatred and oppression against those who seek the Celestial City. The Interpreter teaches Christian now so that he will be prepared when that opposition comes. We must not be caught off guard in the face of certain oppression and darkness.
Second, that the perseverance of the saints is all of grace. Without the Oil of God's grace continually applied to the heart, we would quickly grow cold and dark. While we must be diligent in working out our own salvation in fear and trembling, we must remember Christ and set our hope in God who works in us "both to will and to do of His good pleasure" (Philippians 2:12-13). The strength to persevere is not in us, not in our determination, not in our creativity, not in our optimism. We press on only by the grace of God.
Third, in times of darkness, we must remember to "look behind the wall." The times when it is most difficult to understand God's work in us and rest in His grace are often the times when we face the fiercest temptation and oppression. Through seasons of spiritual refreshment and growth, our faith may be strong; yet when these are past and times of difficulty arise, we can too easily find ourselves weak and unbelieving. Bunyan himself confessed in the conclusion to Grace Abounding:
I have wondered much at this one thing, that though God doth visit my soul with never to blessed a discovery of Himself, yet I have found again, that such hours have attended me afterwards, that I have been in my spirits so filled with darkness, that I could not so much as once conceive what God and that comfort was with which I have been refreshed. [par 3 in the Conclusion]
Though at times we may face darkness and even lose our sense of God's presence with us, we must rest in the promise of His Word that He continues to abide with us (though unseen), pouring His grace out for the nourishment of our souls. We may be forgetful of His mercies, but He is never forgetful of our needs. We may not understand all the events and circumstances that God uses to shape our lives, but He has infinite wisdom and is always working all things together for our good (Romans 8:28). We must remember this vantage point of faith that permits us to see the hand of God at work holding us, sustaining us and fitting us for heaven, even when we cannot perceive or comprehend it.
The lesson of the fire burning against the wall made its impression on Christian. When he is asked later in the story to recall his experience at the House of the Interpreter, this lesson is the first he mentions. The lesson, in fact, proves essential for Christian in his pilgrimage. Later in the allegory when Christian enters the Valley of the Shadow of Death he becomes confounded with the darkness and is unable to perceive the presence of God with him. He is fiercely attacked and tempted to turn back and forsake the Way. Christian survives the night by trusting in the promise of Scripture:
Yea, though I walk through the valley of the shadow of death,

I will fear no evil;

For You are with me;

Your rod and Your staff, they comfort me.

(Psalms 23:4)
Christian knows and trusts that God is with him, even though as he says: "I cannot perceive it." God has promised: "I will never leave you nor forsake you" (Hebrews 13:5). This promise is just as certain when God seems (at least from our perspective) to be far off, as when we sense His nearness. We must learn to trust God at His Word and believe as Paul, that whether our path is filled with light or with darkness, "He is able to keep what I have committed to Him until that Day" (2 Timothy 1:12).
Read this article on the Founders Ministries site.
More Commentary on John Bunyan's The Pilgrim's Progress